We [heart] media
By Breajna Dawkins
School of Communication students enjoy many opportunities for media internships, but a new partnership with iHeartMedia Chicago ups the ante.
Developed by Roderick Hawkins, the school's associate dean of external affairs and chief of staff, in collaboration with iHeartMedia executives, the new internships offer hands-on media-industry experience close to campus. The program furthers Dean E. Patrick Johnson's goal of building local community partnerships while offering a potentially nationwide reach, thanks to iHeartMedia's US network of 860 live broadcast stations in 160 markets.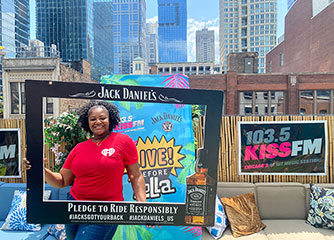 For Carmella Baldwin (GC22), Robert Dorsey (C22), Eli Han, and Samantha Ortiz—the four lucky students selected for last summer's pilot program—the internships were a win-win. Working closely with professionals who trained and encouraged them in their craft, they benefited from interesting work that stretched their capabilities and challenged their perception of the radio industry. They even got paid!
"I appreciated the experience because it's an opportunity you don't get in school," says Robert Dorsey, who graduated last June with majors in radio/television/film and psychology. "Even beyond the work I did, just meeting the people and seeing how they operate was fulfilling." RTVF junior Eli Han began the summer with only a cursory knowledge of the radio industry's public affairs sector, calling this "my biggest challenge but also what made it so fun. I got to experience so much." Now boasting on-air credits and professing a real interest in public affairs work, Han says, "I'm glad I got to see that process and actually interact with the community."
The iHeartMedia Chicago team created a program that touched every sector of the media conglomerate and gave students the opportunity to work on projects that would translate to in-person or on-air events. "I got to do Lollapalooza, which was super cool, because I got to be backstage," says junior communication studies and sociology major Samantha Ortiz. Her iHeartMedia work at the music festival demonstrated "what they're doing to connect with a more modern user and that you need a lot of promotions to increase your audience."
For Carmella Baldwin, the only graduate student intern, working as a program producer for BIN: Black Information Network (iHeart is BIN's parent company) helped her develop her personal brand. "I wanted this position because it would allow me to strengthen myself, and I gained lots of skills in those short weeks," explains Baldwin, who graduated last year with a master's in leadership for creative enterprises. "I'm also working on a podcast of my own, so what I learned with the BIN daily podcast lent itself to who I am and what I want to do. And it feels great, when I go online, to say, 'Oh, there's my article' or 'Here's my audio sample.'"
"The ability to develop a partnership with Northwestern University's School of Communication is both an honor and privilege," says iHeartMedia Chicago president Matt Scarano. "The pilot internship program is a direct result of the vision of iHeartMedia Chicago's Derrick Brown, vice president of programming, and Angela Ingram, senior vice president of communications. I am grateful for their leadership in developing the next generation of media professionals."
With a third cohort of School of Communication students beginning their iHeartMedia Chicago journey this past March, associate dean Hawkins is excited about what the partnership means for the school. "It is an opportunity for all kinds of students to gain the experience they need to further their careers and get paid doing it," says Hawkins, who worked with Dean Johnson to establish the program. "We are excited to see what will come out of this partnership."
Asked what advice they would offer to the program's current interns, the inaugural cohort urged them to take full advantage of professional connections. "It's a great place to build relationships, even if you don't want to go into radio," says Ortiz, whose iHeart Media work as an event coordinator has led her to consider a career in marketing. "It's a great opportunity to learn about the industry, learn a lot about marketing, and build off the creativity of that industry in whatever area you want."