Dialogue with the Dean: Being BeBe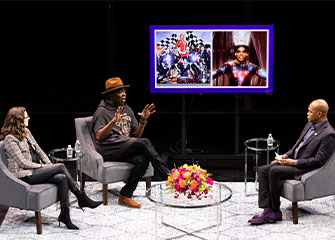 Dean E. Patrick Johnson hosted a special two-guest Dialogue with the Dean on March 9 featuring filmmaker Emily Branham (C02) and the subject of her documentary Being Bebe—Marshall Ngwa, aka BeBe Zahara Benet. As BeBe, Ngwa rose to fame as a performer, activist, and the inaugural winner of RuPaul's Drag Race.
"I think all who are aligned with the Northwestern School of Communication recognize how powerful art is as a tool for building empathy, understanding, and a bridge between human beings," said Branham, who majored in radio/television/film. "I have a friend who says, 'Nobody cries over a policy paper,' but they do feel something when they go on a journey with another human being. There's so much power in positive representation and telling nuanced stories about family, acceptance, and love."
Shot over 15 years, the film follows the progression of Ngwa's career, covering his childhood in Cameroon, supportive family, performance success, and disappointments. "There is no way you can tell the story that she told without trust," Ngwa said. "People see me do what I do, but I'm a very private person. I had to trust Emily. She's been a part of a lot of my life because of the relationship we've built."
Preceded by a screening of Being BeBe at the Block Museum of Art, the conversation took place in the Virginia Wadsworth Wirtz Center for the Performing Arts' Ethel M. Barber Theater and was available for virtual viewing.
Being BeBe is Branham's first feature documentary. Currently available on select streaming platforms, it premiered at the 2021 Tribeca Film Festival, was selected as a New York Times Critics Pick, racked up awards on a five-continent festival tour, and was picked up by Fuse Media and other distributors.