Serious Play: a lab for artistry, expression, and experimentation
The School of Communication has a new vision. Take a sneak peak behind the two-year process of rebranding, reimagining, and redefining our School.
By Kerry Trotter
What is the School of Communication?
Why are we configured this way?
How does our work stand out?
As SoC has grown and evolved—from a small department of elocution to a high-impact, global assemblage of arts and science scholars—these questions have persisted in kind. Yet when E. Patrick Johnson assumed his deanship in August 2020, the need to answer them felt urgent and necessary.
"So many of the challenges we face as a school could be traced back to this identity crisis of sorts," he says. "We boast a wonderfully enthusiastic alumni, student, faculty, and staff community, but what else would be possible with more cohesive messaging? The ability to clearly define our vision and mission gives us a banner under which to work. It says, 'We're all on the same team,' and teammates collaborate, create, innovate, and play."
The challenge
How can SoC connect the dots between basic and clinical science, social science, and performing and media arts while demonstrating that these are meaningful connections? How do we better communicate our strengths as a school versus leaning on the reputation of individual departments? How do we advance our work in a strategic way?
SoC's arrangement of departments is intentional and complementary, but it can be difficult to explain, and even harder to explain succinctly. Finding a theme that could move fluidly from one discipline to the next became the priority.
The process 
First order of business: dispense with the "shaky C." The longstanding logo depicting the reverberating letter C was initially effective but was now out of step with Northwestern's modern branding guidelines. The official "lockup," which aligns the school with all others at the University, was already more prominently placed on all outward-facing and internal communications.
The next task: create a mission statement that would synthesize SoC's goals and communicate its strengths across disciplines. Dean Johnson convened a senior leadership retreat in summer 2021 and, alongside the associate deans and department chairs, created a comprehensive list of words and concepts that were intrinsic to SoC and its culture: "interdisciplinary," "excellence," "scientific discovery and clinical impact," "development of the whole person," and more. One discussion centered around the idea of failure, noting that students often feared taking creative risks that could adversely affect their academic goals. But stumbles and setbacks are essential in achieving excellence, and it was paramount to communicate that SoC was rigorous but supportive—and, most importantly, a place that took seriously the often-playful process of discovery.
Next, Dean Johnson enlisted the expertise of Northwestern's Office of Global Marketing and Communications, specifically assistant vice president of marketing and chief creative officer Andy Madorsky and his team of writers, marketers, and strategists. After regular check-ins, the OGMC team developed several concepts and "headlines"—virtual elevator pitches. A simple but compelling standout emerged:
The School of Communication is a lab for artistry, expression, and experimentation: Serious Play.
The idea was fleshed out further: Performing at the highest levels, in a lab or on the stage, means hard work, training, critique, rigor. Everything we do is an experiment; we're a research lab for communication. The freedom to try, to stumble, to fall, and then joyously rise again is essential to all learning and growth. Here, we embrace challenges, iterate, and try again—in our science, in our scholarship, and in our creativity.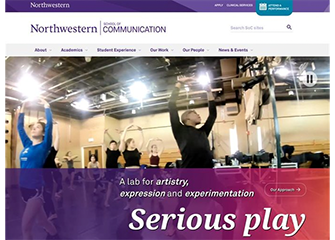 "We were excited to work with this idea—serious play—as it so vividly captures SoC's culture," Madorsky says. "Additionally, it complements Northwestern's broader marketing vision and drives home the idea that we are as much about intellectual rigor as expression and experimentation."
Serious Play covers a lot of bases for Dean Johnson, too. It illustrates that SoC is a collaborative, interdisciplinary community; that it is inclusive and prioritizes becoming more diverse and equitable; and that creativity necessarily plays a role in any scholarly endeavor, scientific or artistic.
"We embody Serious Play in all disciplines and methodologies in SoC," Dean Johnson says, "from the very literal applications in theatre to the way we engage with and study people with communication disorders. We are a lab through and through, and fostering serious breakthroughs in communication means we must experiment, we must engage one another, we must play."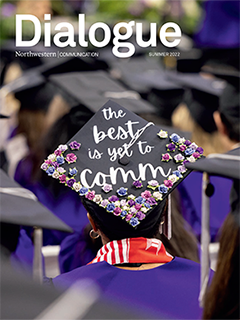 With the mission statement locked down, OGMC turned its attention to the most visible outlets for this work: the SoC website and Dialogue magazine. Its web team pored over analytics and stakeholder interviews to determine the primary audience (prospective students and their parents/caregivers) and then embarked on strategizing, designing, producing, and launching a new digital presence. The publications team rethought the magazine's old "newsletter" approach and suggested ways to break up the copy and better utilize the school's peerless cache of compelling imagery.
OGMC wove the Serious Play theme into both platforms in visually engaging ways, better defining SoC and its collaborative spirit. The new annual print magazine debuted last summer; the website launched in the fall. This Dialogue website houses digital-only content, delivered annually but with special content launching throughout the year.
The result 
The school now boasts exciting, photo-driven storytelling that better highlights the experiences of students, the eminence of faculty, and the success of alumni. Department goals, priorities, and distinctions are more effectively demonstrated, as is how they all fit together under one dynamic roof.
"I am elated with the result," Dean Johnson says. "The new branding so beautifully reflects the excitement and import of our contributions to communication and the community in which we want current and future students to find belonging. We are collaborators and creators, and what better way to tell that story than through examinations and celebrations of serious play."