Mellon Foundation supports faculty exploration in social difference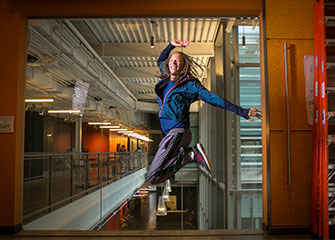 A trio of grants awarded by the Mellon Foundation this winter will help alter the way we examine identity, accessibility, and history.
Mellon has funded the University in the amount of $500,000 to expand a research project examining Black dance practices across the US and how those practices help represent African American identity and Black freedom. Led by Thomas DeFrantz, professor of performance studies and theatre and director of the Slippage lab, the grant was one of 26 awarded through Mellon's inaugural Higher Learning Open Call for civic engagement and social justice-related research .
Moya Bailey, associate professor of communication studies, will lead a project titled "Labs for Liberation," an exploration of the humanities lab as a space to investigate innovation made possible by critical disability theory. How do emerging understandings of disability and accessibility affect how creators build material interventions? What role do activists and artists play? The $501,000 award will help facilitate Labs for Liberation's examination of these questions through a two-year program of summer schools, residencies, and graduate and postdoctoral opportunities. Vanderbilt University was likewise funded for the project .
Tracy C. Davis, professor of performance studies and theatre and the Ethel M. Barber Professor of Performing Arts, alongside associate professor of English and Black Arts Consortium director Ivy Wilson and clinical associate professor of musicology Jesse Rosenberg, will investigate "Decolonizing Theatre" through a Sawyer Seminar grant. This series of talks and performances, kicking off this fall, will consider ways to study and reimagine performances from the years 1660–1830—an era of colonialism, capitalist expansion, and racial violence—in ways that resonate with and address 21st-century concerns of social and racial justice. Northwestern was awarded $225,000 as one of 10 institutions receiving Sawyer Seminars funding in the limited-submission 2022 competition .