Captivating young audiences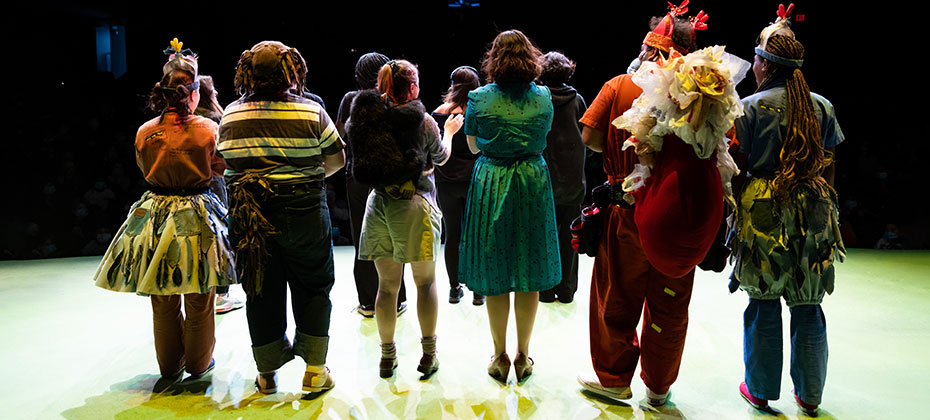 The School of Communication is where children's theatre began—and where it continues to flourish.
By Breajna Dawkins and Kingsley Day
Northwestern boasts a storied history of theatre for children and families—and as in all great tales, its second act is heating up.
The field of children's theatre, now called theatre for young audiences (TYA), was born at what was then the School of Oratory through the pioneering work of Northwestern faculty member Winifred Ward (C1905). In 1925 she launched the Children's Theatre of Evanston, which gave city schoolchildren the opportunity to perform onstage with University students. Over the ensuing decades, her successors expanded the ongoing partnership to offer drama workshops and learning labs in Evanston schools.
In 2010 the theatre department's TYA endeavors gained a higher profile with the founding of Imagine U, a series of biannual productions designed specifically for young audiences. "When Imagine U was created, we wanted to do work that enchanted children and was meaningful for the entire family," says theatre professor Rives Collins. "Northwestern is part of a national community of theatre for young audiences, and we are committed to doing quality work that is tailored to the developmental needs of young people."
"Theatre affords wonderful results for children," says assistant professor of instruction Lynn Kelso (MFA '97), Imagine U's founder and artistic director. "This program gives Northwestern students an opportunity to perform, become teaching artists, and interact with their community in a curricular way that can launch people's careers."
Expanding in the community
The many documented benefits of exposing children to theatre include inspiring empathy and improving academic and social outcomes. Imagine U has sought to ensure that all area children reap those benefits, but its initial audiences were predominantly white families from more affluent North Shore communities. To increase inclusivity, Collins and Kelso developed an idea that they successfully pitched to Dave Davis, Northwestern's executive director of neighborhood and community relations. The resulting program—Learn and Imagine Together Through Theater (LITTT)—expands the longtime Northwestern–Evanston/Skokie School District 65 partnership by bringing all of the district's third-grade students to campus to experience a show, learn about the production process, and maybe even try their hand at storytelling themselves.
"Co-created community partnerships like LITTT can serve as a catalyst for advancing racial equity," says Davis. "Theatre exposes young people to artists who look like them and can provide them an opportunity to see themselves in a way they never imagined."
With the partnership in place, Kelso and Collins worked with District 65 drama department chair Betsy Quinn and Washington Elementary School drama teacher Anne Lewinthal to design activities benefiting both the participating Northwestern students and District 65's captive audiences. For each production, Imagine U students and district teachers develop a curriculum providing pre-show learning in the third-grade classrooms, immersive on-campus activities before the production, and a post-show classroom lesson plan to explore the show's themes and theatrical aspects.
"Our students were already going into Quinn's classroom and doing work there," explains Kelso. "So this collaboration has been the perfect extension of that." Quinn says that LITTT "adds another level to district students' theatre education. It's an opportunity for them to be audience members at a professionally mounted, directed, acted, and designed play that's geared specifically to their grade and age level."
"Our students benefit from a terrific relationship with District 65 teachers and from performing for an all-student audience," says Collins. "There's so much richness to this experience, both onstage and after the play."
Last fall, over 800 students visited the Josephine Louis Theater to see the musical Me...Jane: The Dreams and Adventures of Young Jane Goodall. Directed by Collins, the show depicted young Jane's ambitions and struggles as she prepared to take on the world of science. The show reminded students to dream big.
At one performance, during a scene when two characters bullied Jane, a child in the audience called out, "That's not funny." After the show, a teacher explained to Collins that the class had been talking about responding to bullying by being an upstander instead of a bystander. "It was so gratifying to have teachers say that this story met their kids right where live," says Collins.
"It's exciting to have live theatre and moments together hearing stories and being hopeful," adds Lewinthal. "Asking kids big life questions in a communal space with their fellow students and then giving them a chance to explore those stories in depth with their drama teacher after the experience? That's important."
"We are creating space for students to be welcomed by Northwestern, by the theatre world, and by the world of fine arts," says Kelso, "so that theatre is not a strange experience but is one that is accessible to everyone."
Expanding nationwide
A further expansion of Imagine U developed as an unforeseen side effect of the Covid pandemic. When Northwestern paused in-person learning in March 2020, the program found creative ways to continue telling stories to its core audience.
"The students wanted a performing platform, so we made Imagine U Storytime," says Kelso. "It allowed them to write and direct each other on video. It's theatre but in a different format. I'm proud that necessity resulted in real creativity."
"Every week we created 15-minute stories featuring original student work," says Imagine U education and engagement director Natalie Rarick, a senior theatre major in the School of Communication's new Theatre for Young Audiences modular curriculum. "We had animation, activities, and directed experiences. It was wonderful."
The engaging videos' online success quickly grew. It wasn't long until Washington D.C.'s National Theatre asked Imagine U to contribute to its temporarily virtual Saturday Morning Live! series. The resulting six episodes of Life Now allowed Northwestern students to hone their craft while reaching a whole new community of students and families. "The National Theatre project was work that we had never done before," says Kelso. "I'm so proud of those episodes, because they reached a national audience."
Kelso hopes to expand this effort through interdepartmental collaboration.
"Radio/television/film associate chair and professor Jacob Smith and I are looking to combine the skills and talents of RTVF and the theatre world," she explains. "Dean E. Patrick Johnson has been encouraging us to do more work across departments, and our Life Now series is a perfect vehicle to use going forward to create content to live online as opposed to the stage."
Imagine U's educational benefits even extend to succeeding generations, thanks to the work of its many alumni. Julia Laurenson (C22) was Imagine U's education and engagement director as a student and is now the artistic administration coordinator at St. Louis's Metro Theater Company. She credits Imagine U's focus on empowering students as the reason she has pursued a career in theatre for young adults.
"The skills that I learned and developed through Imagine U definitely prepared me for my jobs, and having Lynn as a mentor in the Imagine U context was truly pivotal," says Laurenson. "I never intended to go into theatre for young adults, but there was a lot of exciting purpose in our work."