Exploring the bilingual brain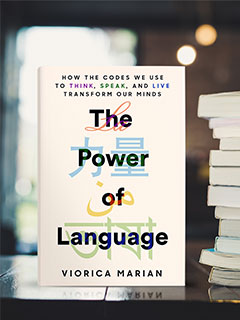 Viorica Marian can speak to what's at stake when we learn a second language. The Ralph and Jean Sundin Endowed Professor of Communication Sciences and Disorders has corralled her 25 years of research on bi- and multilingualism into her popular-science book The Power of Language: How the Codes We Use to Think, Speak, and Live Transform Our Minds, issued this month by Dutton. More than 7,000 languages are spoken around the world, and the majority of the planet's population is multilingual, but until recently, surprisingly little was known about the bilingual brain.
Marian presents groundbreaking findings from experiments with thousands of speakers of multiple languages to dissect how language operates in our brains, the tremendous potential of the bilingual mind, and how to harness its power. Every new language we speak shapes how we perceive ourselves and the world around us, what we remember, how we feel, the insights we have, and the decisions we make.
"While you may not realize it, your mind already uses multiple codes—math, music, spoken languages, sign languages," says Marian. "The human brain is built to accommodate multiple codes of communication, and as we learn them, doors open to new experiences and knowledge."
Naturally, the book is being translated into multiple languages, with 10 foreign editions and counting. The Next Big Idea Club has selected it as a Must-Read Book.
A polyglot from Moldova herself, Marian participated in book signings in Norris University Center and at Evanston's Bookends & Beginnings independent bookstore on April 4.