Poetic justice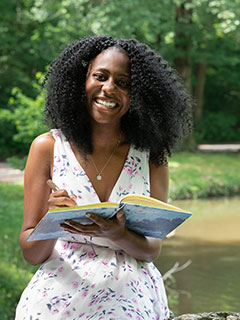 Words matter to Cydney Brown. The first-year communication studies major and African American studies minor is already establishing a literary reputation—and well beyond campus, at that.
The Philadelphia native was named her city's 2020 Youth Poet Laureate (a program supported by the Free Library of Philadelphia) and this year's Northeast Regional Youth Poet Laureate, which puts her in contention against three others for the title of National Youth Poet Laureate. She will travel to Maui, Hawaii, for the April 28 announcement .
"It's always been the best way for me to express myself," says Brown, who started writing poems in fifth grade, an age often marked by complicated emotions. "I looked toward poetry to get my ideas and thoughts out, and then I realized that when I share those with others, someone else can be feeling those feelings too, and it connects us. So that's why I started sharing my poetry more—standing up, reciting at school, and then reciting at bigger venues."
As a youth poet laureate, Brown is an ambassador of sorts—teaching poetry in schools, giving talks, reciting her work, and generally promoting literacy, community, and social justice among young people. The national title would provide a larger platform for Brown to inspire others to speak their truth.
"It's a way of life, and it's a way to heal and get all your thoughts out," she says of her writing. "My dream is to go around the world sharing and teaching poetry and connecting with others, as well as getting people to understand its history a little better. I want to highlight and uplift different forms of African American history that we don't often talk about. I'm currently writing a poem about Claudette Colvin, who did a bus boycott a full nine months before Rosa Parks. It's giving them a voice through poetry."
The youth poet laureate program was founded in 1999 by Urban Word, which works with literary arts organizations to identify and recognize exceptional young poets whose work inspires change. The program is supported by such entities as the Library of Congress, the Academy of American Poets, and the National Endowment for the Arts.