Theatre organization recognizes IPTD program excellence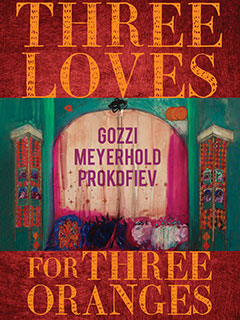 Faculty, alumni, and students in the Interdisciplinary PhD in Theatre and Drama program racked up awards last fall at the American Society for Theatre Research's annual conference, held in New Orleans.
"It was a cause for celebration that we had so many people honored across vastly different stages in their careers," says Dassia N. Posner, associate professor of theatre, who teaches in the program. "What it represented for me is our longevity of success. It's not just one cohort of students but students, faculty, and alumni who have been successful over time."
The ASTR Translation Prize was awarded to Posner, Maria De Simone (GC18, GC21), and Michigan State's Kevin Bartig for their collaborative book Three Loves for Three Oranges: Gozzi, Meyerhold, Prokofiev. Current doctoral candidate Jessica Friedman received the Selma Jeanne Cohen Conference Presentation Award. Tara Rodman (GC17) was awarded the Gerald Kahan Scholar's Prize for the essay "Japan Black: Japanning, Minstrelsy, and 'Japanese Tommy's' Yellowface Precursor," published in Theatre Survey. Jordana Cox (GC15) received the Brooks McNamara Publishing Subvention for the book Staged News: The Federal Theatre Project's Living Newspapers in New York. And Laura Ferdinand (GC18, GC22) was featured as an all-conference plenary presenter. The Department of Performance Studies was also represented by Kareem Khubchandani (GC10, GC14), whose Ishtyle: Accenting Gay Indian Nightlife received an honorable mention for the Sally Banes Publication Prize for Best Book in Dance Studies.
For Posner, the dynamic collaborative process of creating Three Loves for Three Oranges was what made the win so satisfying. "The project sheds light on what IPTD can do at its best," she says. "This award was not just about me being recognized by an organization that has been my academic home for a very long time but about winning it with one of our graduate students (De Simone). That kind of collaboration can be a model both for how we train our graduate students and for how we credit them. Credit is meant to be shared."