Jane Steiner Hoffman (C86)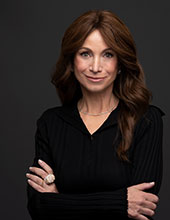 Jane Steiner Hoffman (C86) knows better than most what's at stake with our privacy. The University Trustee and public policy expert has worked in finance, government, politics, and journalism. But Hoffman's latest ventures have homed in on her passion for consumer advocacy and information access. Her latest book, Your Data, Their Billions: Unraveling and Simplifying Big Tech, was a top-10 "editors' pick" on Amazon. She is also a fellow at Harvard's Mossavar-Rahmani Center for Business and Government. The SoC alumna and Board of Advisors member answered a few of our questions about her work.
You've had a broad, successful career. Can you explain how you connected the dots from each of your experiences to where you are now, as an author and voice of expertise on consumer advocacy?
My first job out of Northwestern was at an investment bank. I was an analyst in one of those training programs at Salomon Brothers, and that really wasn't a good fit for me. I found it to be testosterone hell (laughs). I was always interested in consumer activism since I was a little kid. I used to watch this woman on a television show in the afternoon—Betty Furness: Live at 5—she was a consumer reporter and had been the consumer affairs commissioner (for the City of New York, and later the state). I loved hearing the stories of how she fixed somebody's problem; I was just fascinated by her. Fast-forward 25 years, and I was the consumer affairs commissioner of New York City. And everything I do really has a consumer advocate's angle to it. So, whether I'm in politics, policy, or news, it's always about democratizing information. My latest book is a consumer advocate's guide to Big Tech, and my last book was a primer on renewable energy. But the heart of everything I do, from the Presidential Forum on Renewable Energy to my jobs in government, has all been about making information accessible to the public.
Speaking of Big Tech, it's among the biggest entities one can tackle right now. Was there an intimidation factor, or was this a natural next target, since this is the biggest consumer affairs entanglement that we're in right now?
I started my fellowship at Harvard three-and-a-half years ago thinking about technology, but I wasn't sure how to approach it. I do think it's the biggest consumer issue we face today: What's happening with our data, and what are we going to do about it? The more I thought about it, and the more I researched it, I thought people needed to be armed with knowledge about the stranglehold Big Tech has on our lives and the economy.
Did anything in your research and writing surprise or even shock you?
I don't think we realize that we have no secrets. Privacy means something very different today than, say, maybe 25 years ago. So recently, in a classroom at Harvard, I said to the students, "Raise your hand if you have something that's private that you think nobody knows." Every single student raised their hand. And I said, "Guess what — I think Big Tech knows your secret." Nobody knows where you are every minute of every day, what medication you take, what you shop for online, what you look at online. Nobody. Not your mother, not your spouse, not your best friend. Nobody knows everything, but Big Tech knows. And are you comfortable with that? What are the ramifications of that?
How do you manage all that you do? And how do you recharge?
I think of myself as a little bit nonconformist, and I love to champion new ideas—that gets me excited. So, this book is about a lot of new ideas for me and, I certainly hope, for other people. I wrote in the book about whether smartphones becoming an adult pacifier. Thinking of it in those terms in a new way lets you see the dependency. And I get excited by that.
How did you wind up at Northwestern?
Initially I attended the journalism school, and I switched into the communication studies department. I love the humility and pacing of life in the Midwest, and I really think Northwestern changed my trajectory. I took a class from (communication studies professor emeritus) Irv Rein, and he was writing a book called High Visibility: The Making and Marketing of Professionals into Celebrities. I was one of the teaching assistants, and we did some research on the book. It fascinated and really stayed with me how images and messages are manipulated, and I really think that if I didn't take that class, I'm not sure I would have been armed to do the things I did in my career. It was really life changing.
And why do you remain so involved in SoC and Northwestern?
I deeply love Northwestern, and it's very exciting to see how the University transforms. I'm excited about education and the learning process, and it's wonderful to see new leadership and where they'll take the university. What's so amazing about Northwestern is it doesn't stand still, there's constant innovation. E. Patrick Johnson is doing a remarkable job at SOC—he's really an inspired leader.
Now that this book is out, and you continue your work at Harvard, what's next?
I'm doing research on corporate social responsibility, which is a little bit broader than just Big Tech's lack of corporate social responsibility. I'm a capitalist, but I'm thinking about stakeholders versus shareholders, and whether corporate social responsibility and citizenship should play a bigger role in how capitalism works.