"And" really is in her DNA
An aspiring physician is approaching healthcare from a multidisciplinary perspective, thanks to the opportunities she's enjoyed as a communication studies major.
by Kingsley Day
"I arrived at Northwestern knowing I wanted to try a lot of things," says graduating senior Vibhu Kolli. "That's why I came here." And that's exactly what she's done.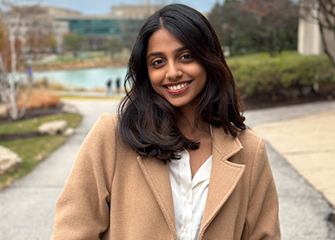 Kolli changed her major multiple times on her path toward pre-med. But it was only after transferring into the School of Communication that she felt she could pursue everything she wanted to try. Looking back on her Northwestern career, she says that as a communication studies major, "I had the structure to succeed in my graduate career goals while learning more about the individuals, systems, and structures in which the practice of medicine exists for and within."
A native of Brookfield, Wisconsin, Kolli knew she wanted to go to a college on a lake. A campus tour years earlier was her only Northwestern visit before applying early decision. "Then I got in and thought, whoa, okay, let's figure out what I want to do," she recalls. "When I finally arrived, I slowed down, walked around, spent time around campus, and thought: This is gorgeous. I'm glad I'm here."
Kolli enjoyed her early coursework but never felt that her initial majors were the right fit. "I had met so many people who had found something that really interested them," she says. "I wanted to find my niche."
Her roommate had taken a public speaking class and strongly recommended it, so Kolli took the course as a sophomore. She followed that first communication studies class with an introductory course in health communication under lecturer and associate professor of instruction Kimberly Pusateri, which she says "completely sold me. It just took a couple of classes to realize this major was so interdisciplinary that I could essentially make of it what I wanted."
Kolli's wide-ranging pursuits make her a quintessential Wildcat. "I'd seen all over the Northwestern website that 'and' is in our DNA, and I'd seen all the different majors," she says. "This is what I wanted to do. I wanted to explore and learn from the many lessons of liberal arts. And this multi-faceted perspective is what I hope to bring to the field of medicine."
Anticipating a future in medical research, Kolli added a minor in data science and went on to work in that area as a teaching assistant. In addition, she was able to take classes in literature and political science (one of her short-lived majors) and even to study health communication abroad on Northwestern's Qatar campus. Her main project there focused on healthcare inequities affecting the country's many foreign workers. A resulting food drive involved collecting donations and making distributions, and she has worked to keep the program going since returning to Evanston.
With communication studies associate professor Courtney Scherr, Kolli also undertook an independent study project on endometriosis. Noting that "in medical research, so much about women's pain is overlooked," she explored the subject with healthcare providers in hopes of eventually reducing delays in diagnosis.
Kolli is applying to medical school this spring for enrollment in fall 2024. One path she's considering is a joint program leading to both an MD and a master's in public health. Meanwhile, she plans to continue doing research, "building a background in epidemiology and working on the front end of health communication. I really like those two areas and think they mesh extremely well in terms of better understanding healthcare as a whole."
Despite repeatedly changing majors and pursuing a variety of academic interests, Kolli has somehow managed to graduate a quarter early. "But my world will still be Evanston for a little longer," she explains. "I won't be taking classes, which gives me flexibility to do more and try things. For now, I'm not going too far away from my home at Northwestern."